In three months of the war in Ukraine, most of the accusations of war crimes were brought against the Russian side. "The violations committed by the Russian Federation are by far larger in nature and scale [than the violations committed by Ukraine]," the Organization for Security and Cooperation in Europe (OSCE) said in a report. Conflict Intelligence Team (CIT) analysts, who have been monitoring the actions of the Russian army in Ukraine for the past three months, agree with this assessment. Ruslan Leviev, Kirill Mikhailov, and another CIT analyst, who wished to remain anonymous, provide an exclusive comment on what actions by Russian soldiers could potentially be regarded as war crimes.
To learn how international justice works for war criminals and why the unpunished brutality of some of the Russian army's actions in Chechnya led to the massacre in Bucha, you can read this article.
Mass murders of civilians
The most notorious case of mass murder of civilians was the "massacre in Bucha". Satellite images and drone recordings clearly prove the guilt of the Russian side: they show that the corpses of civilians appeared on the streets of Bucha while the city was controlled by Russian troops. In addition, there is evidence that mass graves began to appear there at the same time.
There is also a video that clearly shows Russian military machinery with a V sign — characteristic of troops operating in the northwestern part of the Kyiv region — firing at the cyclist. We identified these vehicles as modern BMD-4M (Combat Vehicle of the Airborne), which are primarily in service with the "Pskov paratroopers" (the 104th and 234th regiments of the 76th Division), who suffered losses in and around Bucha in February and March of this year.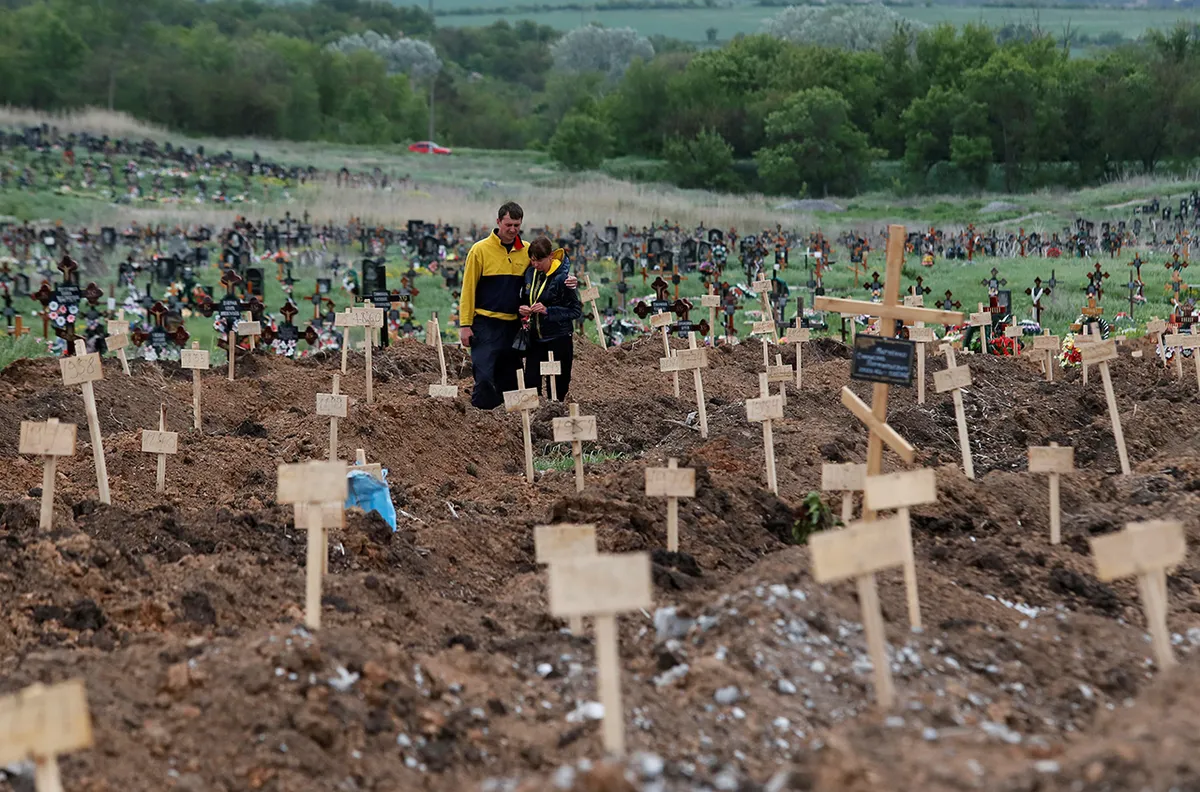 All this evidence, as well as a huge number of testimonies from civilians who told Western journalists about what happened, leave no doubt that the killings were committed by the Russian military, and much of the guilt lies with the paratroopers.
Reports of inhumane treatment of the civilian population come from almost everywhere, for example, from the Chernihiv and Sumy regions. Bucha is unique for the fact that it was the place where paratroopers stood for a long time, constantly under artillery and mortar fire and suffering losses. We assume that they suspected a spotter in everyone, were afraid of the locals, and did not even allow them to look at themselves. They could shoot civilians who just saw their positions.
And dozens of other cases from the Kharkiv, Chernihiv, and Kyiv regions continue to surface. They are considered less revealing and do not cause such a shock, mainly because the locals had time to remove the corpses before the liberation. And while Russia is trying to deny its involvement in the crimes in Bucha alone, the Human Rights Watch report suggests that the killing of civilians is a systematic approach of many Russian servicemen in Ukraine.
Human Rights Watch collected testimonies of crimes committed by Russian servicemen in 17 settlements in the Kyiv and Chernihiv regions, which were occupied by Russian troops from late February to late March.
Human Rights Watch distinguishes several types of war crimes committed by the Russian military during the occupation of Ukrainian settlements: summary killings of civilians, illegal detention, detention in humiliating conditions, torture, and shooting at people unnecessarily. 
As reported by Human Rights Watch, the cases documented are only a small fraction of all war crimes. The report included only those cases that were possible to verify by talking to witnesses or victims. The actual number of crimes is much higher. 
Only in the basement of the school in the village of Yahidne, the Russian military held 350 people, including 70 children, for a month. Due to lack of air, food, lack of medicine, inability to move, 10 people died during their detention. And the UN Monitoring Mission has documented 204 cases of enforced disappearance. There is one child among the kidnapped. The vast majority of disappearances, according to the UN, are caused by the actions of the Russian military and associated armed groups.
Indiscriminate attacks on civilian targets
Completely prohibited weapons, such as chemical weapons, are not used in this war, but in international norms, there are certain restrictions on any weapons. Russia has been seen violating these restrictions. The entire Russian military doctrine is based primarily on the massive, indiscriminate use of various weapons: artillery, aviation, and others. In fact, this doctrine already implies some war crimes: acting strictly on it, it is impossible not to commit them.
The Russian army knows no other way to take control of the cities. It doesn't have enough high-precision weapons to fight like NATO (when civilian casualties count in hundreds, not thousands). Accordingly, Russian generals have no intention of avoiding the damage that accompanies this strategy, they do not take into account the lives of civilians.
Of the non-prohibited weapons used in ways that could lead to war crimes, Russia uses, for example, multiple rocket launchers, cluster munitions (Russia, the US, and a number of other countries have not adopted these restrictions), and incendiary munitions. Intrinsically, they have quite legitimate uses. Their main task is to defeat the enemy in open terrain, over a large area. However, the Russian army uses these weapons in residential areas. Such use could be considered a potential war crime because it is indiscriminate and prohibited by international conventions.
For example, we found that Russia bombed Chernihiv with incendiary fragmentation bombs OFZAB-500, and it is absolutely forbidden to use such bombs on city blocks where there is an accumulation of civilians.
In addition, the Izvestia newspaper openly reported on the use of 9M22S incendiary rockets to strike Ukrainian positions near Zolote. We did not see civilian objects being hit there, but there were fires in towns after such shelling, for example in Popasna, and in such a case this could also be a potential war crime.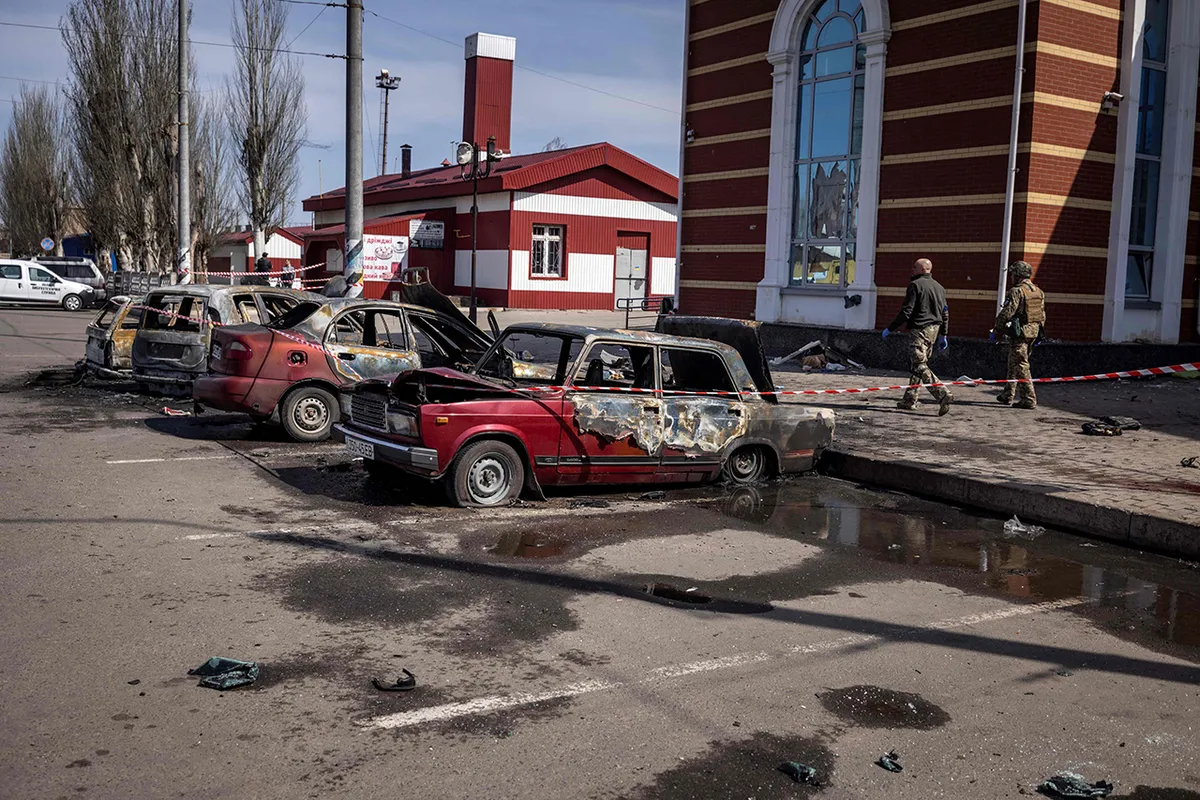 Another case, in which the guilt of the Russian side is obvious, is reflected in the video from Irpin. In the video, one can spot a low flight of two Su-25s, followed immediately by an explosion in the vicinity of an apartment building. We have established that the planes came from the north — there are airfields on the territory of Belarus, where, according to satellite images, the Su-25s were based. At the time, Irpin was under Ukrainian control, and there were many civilians who had not had time to evacuate.
Another strike on the civilian population was the shelling of the station in Kramatorsk. A man was killed there and 121 others were wounded. They were awaiting evacuation. Unfortunately, the method we tried in the first days to draw conclusions from photo and video footage later proved to be inapplicable. But in this case, to check the involvement of the Russian side, we can analyze general patterns.
Before the shelling in Kramatorsk, it was in this region that Russian aircraft and missile systems struck (and are still striking) numerous railroad infrastructure, all the railroads that lead to Donbas. We are sure that the Russian generals wanted (and want) to disrupt the supply of the Ukrainian group in Donbas. And the shelling of Kramatorsk looks quite logical in line with what was happening in those days. From the general logic of what happened, we can draw a conclusion about the involvement of the Russian side. Another circumstantial evidence is that Russia has begun to deny the use of the Tochka-U missile system that was used to shell the train station. However, it is known that at least in January 2022 the complex was in use by the 47th missile brigade of the 8th Army, which is now conducting an offensive in Donbas.
Support independent journalism!
Your donations will help us continue to tell the truth about the war in Ukraine and more
Russia responds to all such accusations by saying that the Ukrainians are bombing themselves. But the scale of destruction that we see in Mariupol, Rubizhne, and other settlements cannot be inflicted by the besieged side. For example, the Defense Ministry calls the airstrike on a maternity hospital in Mariupol, where there were women in labor, a "staged provocation." However, there is a video of an Associated Press journalist who was in Mariupol at the time of the strike, and he said that he heard the sounds of planes right before the hospital was hit. The Russian side denies there was an airstrike.
It simply makes no sense for the Ukrainian side to engage in such provocations in the face of constant shelling, bombing, and civilian deaths.
Rape of women and children
The raping of Ukrainian women by the Russian military is confirmed by the reports of the international organizations Human Rights Watch and Amnesty International. We have no reason to doubt the objectivity of these organizations: they have repeatedly investigated violations of the rules of warfare by Ukraine in 2014-2015, too. We also see interviews of rape victims, and we have no doubts about their veracity.
Ukrainian sources are currently talking about the rape of children as well, including reports by Lyudmila Denisova, the Ukrainian Parliament Commissioner for Human Rights. We haven't seen direct evidence backed up by open data. This information still needs to be accumulated and verified for potential trials.
Abduction of civilians
A huge number of stories have been published in the media about people who have been "in basements" (this is what they call illegal detention in Donetsk People's Republic). People were captured rather randomly. Usually, it was done by ordinary soldiers who were afraid of the spotters or were looking for "Nazis" — they were told that there must be Nazis in Ukraine. The military has a peculiar understanding of how to identify a Nazi: if you served in the army, you are a Nazi; if you have a tattoo with the emblem of Ukraine, you are a Nazi; if you said something wrong or cursed the Russian occupiers, you are a Nazi. If the military didn't like someone, they could declare that person a Nazi, put them "in the basement," and then even shoot them. We are willing to believe reports that the Russian military might shoot civilians for wearing camouflage pants typical of hunters, fishermen, and mushroom gatherers.
In the south of Ukraine (Zaporizhzhia, Kherson Oblast) we see the unfolding of the Russian repressive system, but in a harsher form: that of Chechnya or Belarus. This is confirmed by videos of Ukrainians apologizing for "speaking ill of Russian soldiers on social networks." We see reports of the illegal detention of various activists and local officials who do not cooperate with the new authorities in the occupied territories. For example, on March 11, Ivan Fedorov, the mayor of Melitopol, was kidnapped by Russian soldiers and held in the Melitopol detention center for five days. Former members of the territorial defense, former participants of the antiterrorist operation (the official Ukrainian term for the first stage of the armed conflict in eastern Ukraine, which began in 2014— Ed.) also suffer.
We are receiving information from various sources that the former buildings of the Security Service of Ukraine (SBU) and the detention center are being used to illegally imprison civilians. We saw the same thing in Donbas in 2014-2015. This is how the Russian side is trying to prevent resistance to the occupation authorities.
Looting
The facts of looting by the Russian army on Ukrainian territory are confirmed by data we gathered from open sources. For example, the Russian military tried to send 130 parcels with items from Ukrainian homes from Mazyr, a Belarusian city near the border with Ukraine, to Rubtsovsk, a town in the Altai region of Siberia. This was discovered after the release of CCTV footage from the SDEK offices (a Russian express delivery company) located on the border with Ukraine. We are also receiving reports from the border regions of Russia that large quantities of looted equipment and other valuables have been sent from Ukraine to various provincial towns where military units are major employers.
Here, we can also mention how a Russian Yuri Zverev from the town of Klin near Moscow wrote on social media that his son-in-law brought a "trophy" BMW SUV "from you know where". Said car was "without Ukrop [a derogatory term used in Russia for Ukrainians] numbers and documents." Zverev asked other users how to register such a car in Russia. He asked the administrators of the public page to post his message anonymously, but they revealed his name. After that, the online community was blocked by Roskomnadzor.
Our military source described an incident in which a soldier drove a stolen car to a deployment site to sell it. He was stopped by a traffic police officer on the highway near the Russian border, who asked: "Why don't you take the plates off? I can see you're in uniform, I understand where you're coming from and what kind of car you are driving. Take off the license plate, put the letter Z [on the car], and go in peace." Therefore, if we see a clearly civilian car without license plates and with the letter V or Z on it in the border regions of Russia, we are 90% sure that it was stolen by marauders.
In addition, Ukrainians themselves tracked the location of their stolen iPhones and iPads using the Find My app on their Apple devices. Smartphones and tablets were turned on in Pskov, Khimki, and Belgorod Region, where Russian troops were relocated after their withdrawal from Ukraine.
Looting reached such proportions in March, in part because the Kyiv region is a fairly affluent place, and Russian soldiers come from disadvantaged regions. An analysis of the statistical data on obituaries shows that the poorer the region, the more obituaries are published there. This makes sense: the army conscripts come en masse from regions with no prospects, or from ethnic republics far from the center, where the motivation "to make a name for yourself" is strong. In Rubtsovsk in Soviet times there was a factory, which then closed, and people were left with two main employers — the Federal Penitentiary Service (the local colony) and the Rosgvardiya (The National Guard of the Russian Federation). And so these Rosgvardiya servicemen from a dying single-industry town went to the Kyiv region, and then sent home what they had looted there. Military salaries are low An iPad or laptop is a luxury for them.
Destruction of medical infrastructure
Medical facilities in the combat zone have a special status. Separate precautions must be taken to protect such objects when conducting attacks. However, even during the war in Syria, we observed that for the Russian army these norms were not of any significance. During the Syrian war, human rights organizations provided information about the location of medical facilities, but they were still hit. Moreover, it is also believed that the strikes were carried out intentionally in order to destroy the medical infrastructure.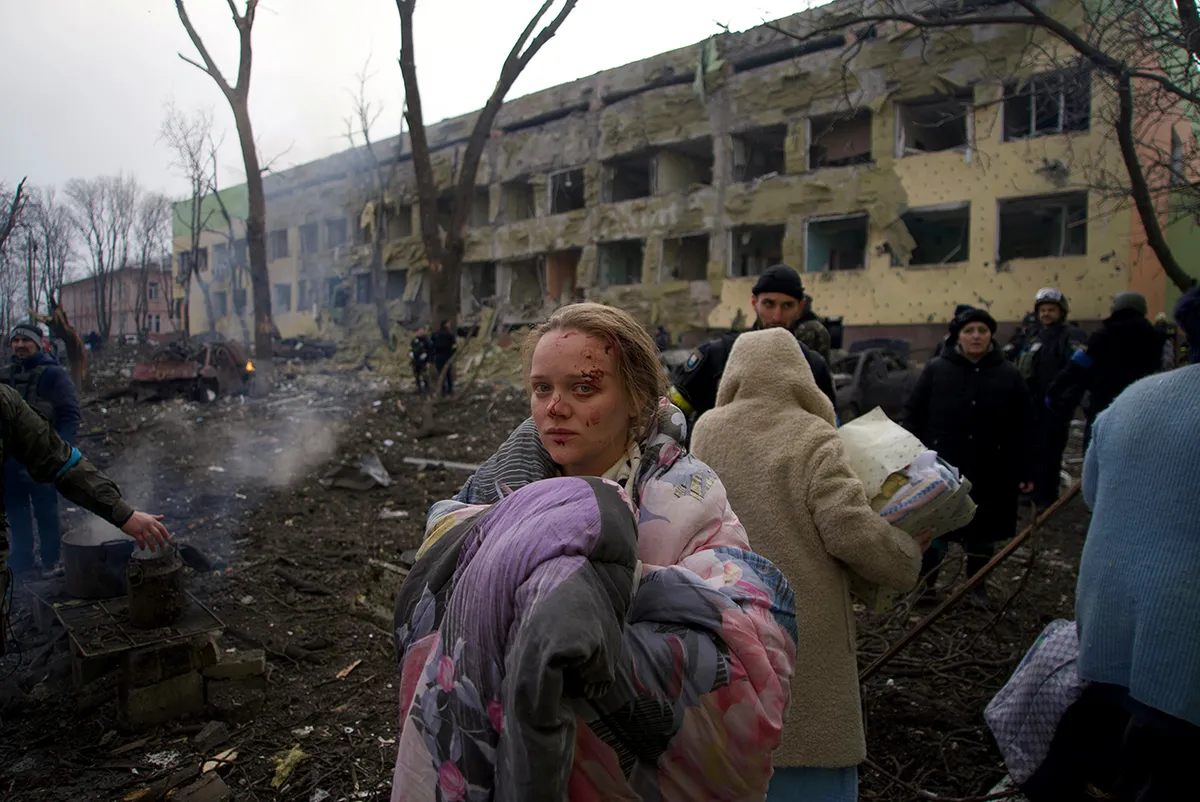 In Ukraine, the number of incidents involving damage to medical infrastructure is lower than in Syria. But we are still talking about a lot of victims of the shelling of medical institutions. By May 23, the World Health Organization (WHO) had counted more than 200 cases of damage to Ukrainian health care facilities since the start of the war. As a result, 75 people were killed and 59 injured. It should be understood that this does not mean a deliberate attack on medical institutions. But it shows indiscriminate shelling of urban neighborhoods with health care facilities, potentially constituting a war crime.
Ill-treatment of prisoners of war
If the treatment of prisoners of war does not meet international standards, it can be considered a war crime.
We received reports from our sources about the preparation of Russian penal colonies for Ukrainian prisoners of war even before they [the Russian authorities] started to fill them. We were told that prisoners of penitentiary facilities in Russian regions bordering Ukraine were being transferred to colonies in other regions. You could theoretically keep prisoners in the colonies but only if certain conditions are met. Prisoners of war cannot be treated like regular prisoners. They have a special status, and international organizations must have information about their state and conditions. The Red Cross must also ensure communication with relatives and the transfer of humanitarian aid to prisoners of war. But according to Deputy Prime Minister of Ukraine Iryna Vereshchuk, Russia does not allow Red Cross employees to visit Ukrainian prisoners of war.
The Ukrainian side also reported moral and psychological abuse of Ukrainian prisoners of war. For example, Ukrainian women were forced to strip naked, squat, and so on. To verify this, international organizations need access to prisoners of war. Unfortunately, we now know little about what happens to them.
We have seen reports about the alleged murder of Ukrainian prisoner of war Dan Zvonik. On April 20, the DNR people's militia published a video showing five Ukrainian prisoners of war, including Zvonik. A week later, his mother received photographs of her son's dead body. We have no reason to doubt that it is the same person on the video and in the photos, but we have no exact information on what caused his death. After this case surfaced, pro-Kremlin commentators asserted that Zvonik was wounded in combat and died as a result. The murder version is plausible, but we cannot verify this information.
We are not aware of any other cases of murders of Ukrainian POWs. However, there are wiretaps published by the SBU in which the Russian servicemen discuss the murder of a prisoner of war: they did not know where to keep him, so they just killed him. We have no serious reasons to question the authenticity of this record. We understand that the selection of wiretaps is biased, there may be some creative editing and phrases taken out of context. But most of the facts contained in the wiretaps are confirmed by information from other sources.
Forced Mobilization
In the context of war crimes, very little is said about forced mobilization (sending to a combat zone against the will. — Ed.) the territory of the Donetsk and Luhansk People's Republics It should be understood that in terms of international law, these republics are territories occupied by the Russian Federation since 2014. Under international law, an occupying power or its subordinate administrations have no right to mobilize the local population. The exception is calls for work necessary for the locals themselves, such as rebuilding infrastructure. Military mobilization in the occupied territories is a blatant violation of international law. And it is in plain sight.
Now there are statements that the mobilized will finally be properly trained and prepared for the oath. And relatively recently, people were taken indiscriminately, given automatic rifles, and thrown into the offensive on Ukrainian positions for the purpose of identifying firing points of the Ukrainian army. The locals themselves call it genocide of the male population of Donbas. This is the closest thing to the very "genocide" that Putin spoke of in his address to the Russians on February 24.
What the Ukrainian side is accused of
We know of two videos of Russian prisoners of war being shot. One incident occurred in the Kyiv region, south of Bucha. The geolocation of this video was confirmed by journalists of Bild and The New York Times. We consider this video credible, just like the video of shooting prisoners in the legs in the Kharkiv region.
In addition, at least two cases of Ukrainians using cluster munitions on residential areas have been confirmed. They struck with multiple rocket launchers with cluster munitions at the Russian command post, which was located in a residential area of a village in the Kharkiv region. It is also known about the shelling of the village of Solokhi in the Belgorod region with cluster munitions. We don't know if any legitimate military target was located there, but even so, the indiscriminate use of such weapons could be considered a war crime.
One civilian, a Russian, died in Solokhi. But from the Russian side, there are hundreds of times more such violations as indiscriminate shelling of territories. The scale of potential war crimes now being committed by Russian servicemen is staggering and does not compare to 2014-2015. At that time we did not observe mass murders, massive strikes on civilians, and looting at that scale. The number of attacks on civilians is ten times greater now than it was then. And while a Ukrainian court punished individual Ukrainian security forces for violations in 2014-2015, Russia has no history of punishing its military for crimes in Ukraine.