On February 22, a soldier from the Russian city of Chelyabinsk, Yuri Gagarin, call sign Angel, spoke at a pro-war concert in Luzhniki. He was presented as a rescuer of 367 children from Mariupol. Some of the children were on stage and thanked him. These children weren't actors — they really did survive the blockade and occupation of Mariupol.
IStories reports how Russian propaganda has used underage Ukrainians, and what they had to go through in Russian-occupied Mariupol.
The Naumenko family
From the stage in Luzhniki on February 22, 15-year-old Anya Naumenko said: "Thank you Uncle Yura for saving me, my sister and hundreds of thousands of children from Mariupol."
Her younger sister Karolina was also on stage, covering her ears to block out the loud noise. "Uncle Yura" (Yuri Gagarin) replied: "The children of Donbas, the children of Mariupol — they are our children, and we, the Russian army, are obliged to protect these people and these children."
Anya Naumenko and her sister are indeed from Mariupol. Ten months ago, during the occupation of the city, the girls' mother was killed by shrapnel.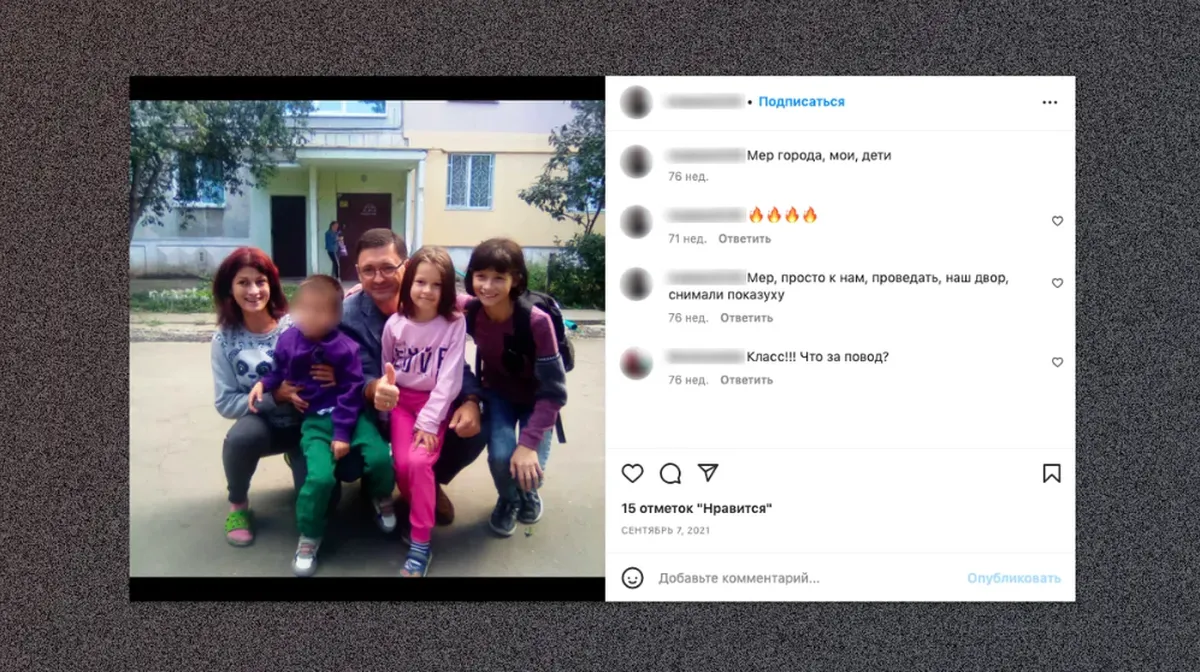 Olga Naumenko gave birth to Anya first, followed by Karolina and her younger son Daniel. Anya was the eldest in the family, but she spent her childhood in an orphanage: in social networks on the pages of her tutors you can find photos of the girl in the institution until 2015, after Olga took Anya home. According to family acquaintances, children were regularly taken away from Olga, but then they were returned. "The mother led an asocial lifestyle, and as far as I know, children were sometimes taken away from her," recalls in a conversation with Important Stories a Mariupol resident whose daughter attended school with Olga's middle daughter. — "But at the same time Anya was a very well-mannered girl, quiet and always took care of her little sister and brother."
One of the speakers at the pro-war concert in Moscow's Luzhniki Stadium was a resident of Chelyabinsk, Yuri Gagarin (not to be confused with a Soviet astronaut. — Editor's note). He was presented as a member of the Russian military who saved 367 children in Mariupol.
"During the liberation of Mariupol, these guys were saved by an angel. "Angel" is the call sign of a serviceman from Chelyabinsk, and a father of seven, Yuri Gagarin. In early March, he went to the war's frontlines even though he could have stayed at home," said Vladimir Mashkov, actor and co-host of the Luzhniki concert, before Gagarin went on stage. 
"Yuri Gagarin saved 367 children in Mariupol," specified concert's co-host Yulia Baranovskaya, TV and radio anchor.
"We, the Russian army, are obliged to protect these people and these children. We are a strong army, we are a powerful army, but your support is important to us," Gagarin said.
The media outlet Agentstvo suggested that Gagarin joined the fighting in Ukraine as a volunteer of the DPR military forces on March 12 last year, and likely became a member of the Russian army only after Russia annexed the Donetsk region.
At the end of April, the VK-public group "Our Chelyabinsk" reported that Gagarin was presented with the Order of Courage "for heroism and military prowess shown in the liberation of children in the city of Mariupol." In a spring video from the Chelyabinsk "People's Front," Gagarin said that his group was looking for houses with children present "in order to free up these basements, and so that in the future it'd be possible to storm these places — literally in two or three days."
In May, it was clarified that he took 367 children out of the city. In December, Gagarin received the Order of Courage from the First Deputy Chief of Staff of the Presidential Administration, Sergei Kiriyenko.
Agentstvo called attention to a publication by the former DPR troop commander Igor Strelkov (Girkin) allegedly "from fighters of the battalion commanded by Gagarin."
They stated that "Angel got a lot of guys killed this summer." Gagarin replied that "the order to take this or that village is not given by the battalion commander, but by higher commanders."
The publication also discovered that Gagarin may be associated with the FSB: in several photographs that were published in a deleted profile on VKontakte no later than 2016, Gagarin was dressed in a special services uniform. At various times, he was listed as a co-owner or CEO of six companies, mainly in the construction industry. The last individual enterprise registered to him was closed last fall. In April 2007, Gagarin was put on a wanted list for illegal business committed by a group of persons or on an especially large scale (Part 2 of Article 171 of the Criminal Code of the Russian Federation). Today Gagarin is the co-chairman of the regional headquarters of the All-Russia People's Front (a political coalition in Russia started by Vladimir Putin in 2011 to forge formal alliances between the ruling party United Russia and numerous Russian non-governmental organizations. — Editor's note) in the Chelyabinsk region. "Uncle Yura" wanders from one pro-government TV show to another telling his story.
When the war began, the Naumenko family — Olga along with her common-law husband Artur and children Anya, Karolina and Danya — first hid from shelling in the Levoberezhny Culture Center of Mariupol, and later in the building of the Levoberezhny district administration. "The girl, Anya, along with the men, under bombing, ran to the ATB [shop] for groceries. Everyone looked after the children, except for the mother," recalls Yekaterina, a resident of Mariupol, who was with them in the basement.
A man who was there at the same time as Naumenko recalls the conditions in the shelter in the administration building: "Women, along with many children, lived in the room next to us — very marginal, each had three or four children, the children weren't washed, they might walk around barefoot. Artur, nicknamed Koschey, came to us — he worked in the 4th Hospital. As it later turned out, one of these women is the mother of Artur's children. Artur came to us and helped charge the phones — he collected all of our phones and took us to the hospital, where there was a generator. He brought some food to his children, and coped as best he could — I speak positively about him.
Olga Naumenko died in early April — according to eyewitnesses, she "ran out for cigarettes," and she was killed by shrapnel not far from the 4th Hospital. She was buried right on the grounds of the hospital. This has been confirmed by an April 16 message in a Telegram channel about the dead in Mariupol.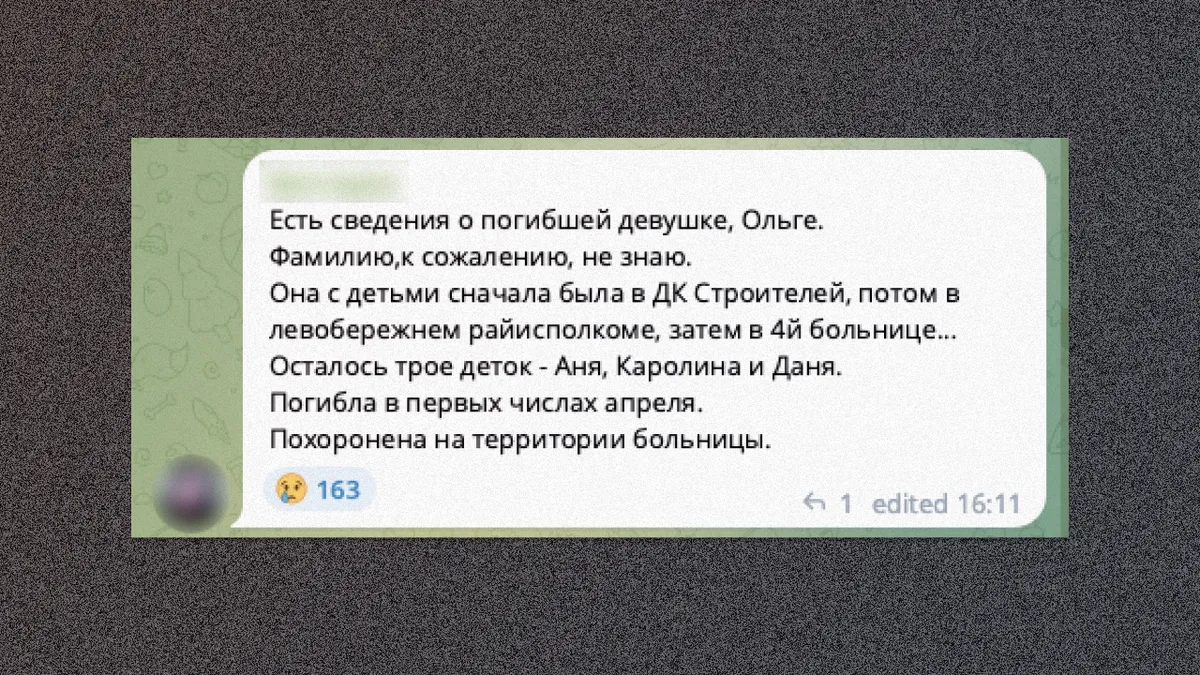 Victoria, who was in the shelter with the Naumenko family, recalls: "We were all evacuated without being asked. The children were taken by Artur. What happened next, unfortunately, I don't know." Another message on Telegram says: "Artur took the children. It seems like they all then went to Bezymennoye (a village in the Donetsk region. — Editor's note)." Where Artur is at the moment, his relatives don't know.
On the stage in Moscow's Luzhniki Stadium, we were only able to identify Anya and Karolina — Daniil's location is unknown (UPDATE: as Artur's relative said, Daniil stayed with his grandmother, Karolina stayed with her biological father, and Anya was assigned another guardian). On one social network, Anya's place of residence is listed as the village of Nikitskoye near Moscow, but two teenagers from Mariupol told IStories that Anya was studying with them in Mariupol, and had left only "for a week." Two months ago, Anya posted a sad video with the caption "Mom. I want to see you."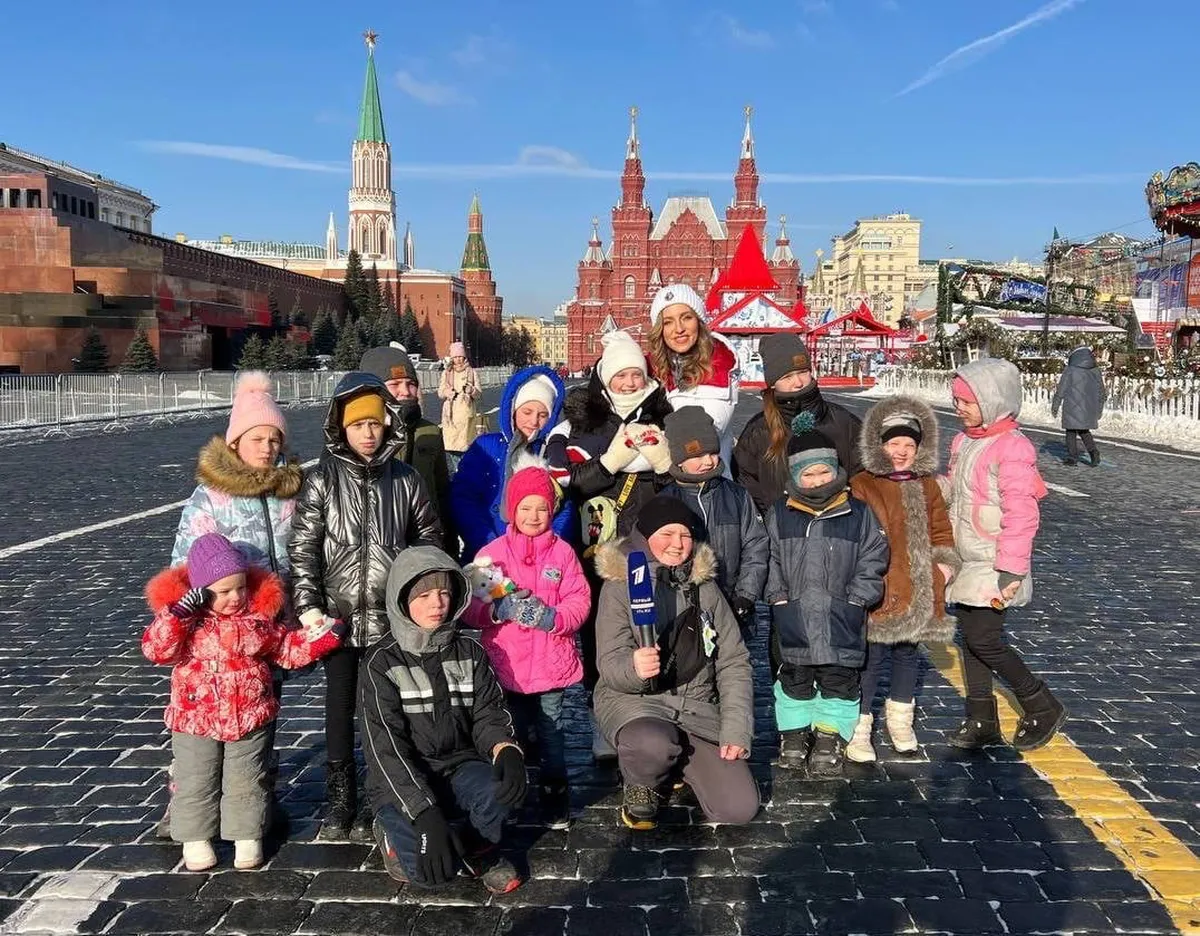 The Vashchishin family
Kostya Vashchishin, standing on stage in a black cap and gray jacket, and hugging Yuri Gagarin on the left shoulder, hid from shelling with his parents in the same places as the Naumenko family — first in the culture center, then in the administration building of the Levoberezhny district. Fortunately, the whole family – 37-year-old Igor and Kristina and their 10-year-old son Kostya – survived. Judging by the photos on the parents' Instagram accounts, they're in Mariupol.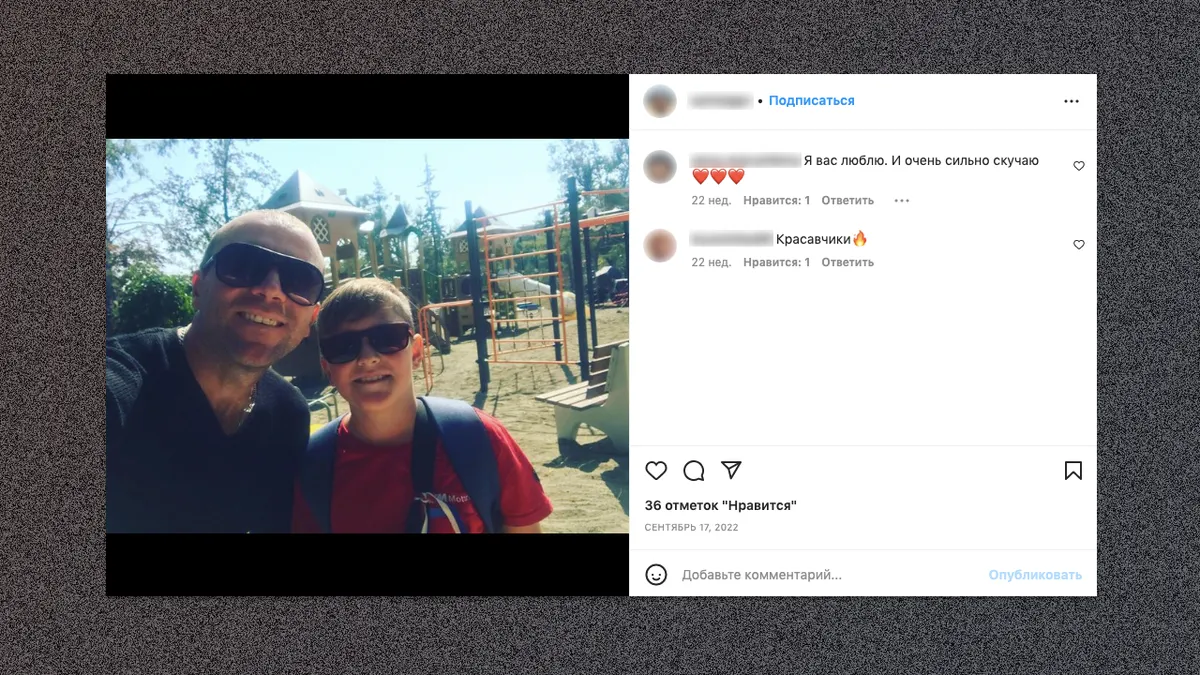 Kristina used to work as a saleswoman in a household goods store, and now in the city administration, according to what an acquaintance of the Vashchishin family told IStories. In September, a selfie of Igor with his son shows Kostya's shoulder bag with the Russian tricolor tied on it.
When the war began, the Vashchishin family hid in the basement of a two-story house, where they had for a long time rented an apartment. Soon, a shell flew into the house and the family had to move to the Levoberezhny Culture Center. A couple of days after they arrived, a fire broke out, and everyone was evacuated to the Levoberezhny district administration building. "[They were] absolutely a normal family: Igor went to the gym, worked at the factory. There were no problems with Kostya: clean, well-maintained," their housemate, Mikhail, recalls about the Vashchishins. He met them at the beginning of the blockade, when they had to spend a month together in a shelter.
"They were absolutely regular people as far as communication — they condemned everything that happened," Mikhail continues. "They didn't say "Cool, we'd rather Putin come, we're tired of living in Ukraine." They condemned the very fact of the war, the bombing. Many may think that they sat in the basement, didn't ever climb out, didn't see what [bombs] were falling and from where. No, it wasn't like that. Igor personally went out with me, we made such a relatively distant trip for water at a time when there was absolutely nothing to drink — we went for industrial water, to the bakery's fire tank. There were several men there, and Igor saw everything with his own eyes: that bombs were falling from Russian planes.
In the shelter we talked among ourselves about how it would be nice to get out of here — at any cost, to anywhere, just to get out of Mariupol. To which Igor and Kristina replied that they didn't mind getting out, but only for a short time — to sit it out, wait out the hot phase, that they don't plan to leave for good. "This is our hometown, we were born here, we will live here," they said. It somewhat surprised me then. It's understandable when the old people say that sort of thing, but not the young ones — especially when they have a young kid. Do you really want him to be here in all this post-war mess?"
Mikhail and his family managed to evacuate the city at the end of March. After some time, friends sent him Igor's profile on Instagram: it was clear from the photographs that the family remained in Mariupol as they planned. On the video from Luzhniki, Mikhail recognized his neighbor Kostya wrapped in a scarf: "I don't think they moved to Moscow. I believe that they were invited to Moscow, and this is a sort of short-term trip."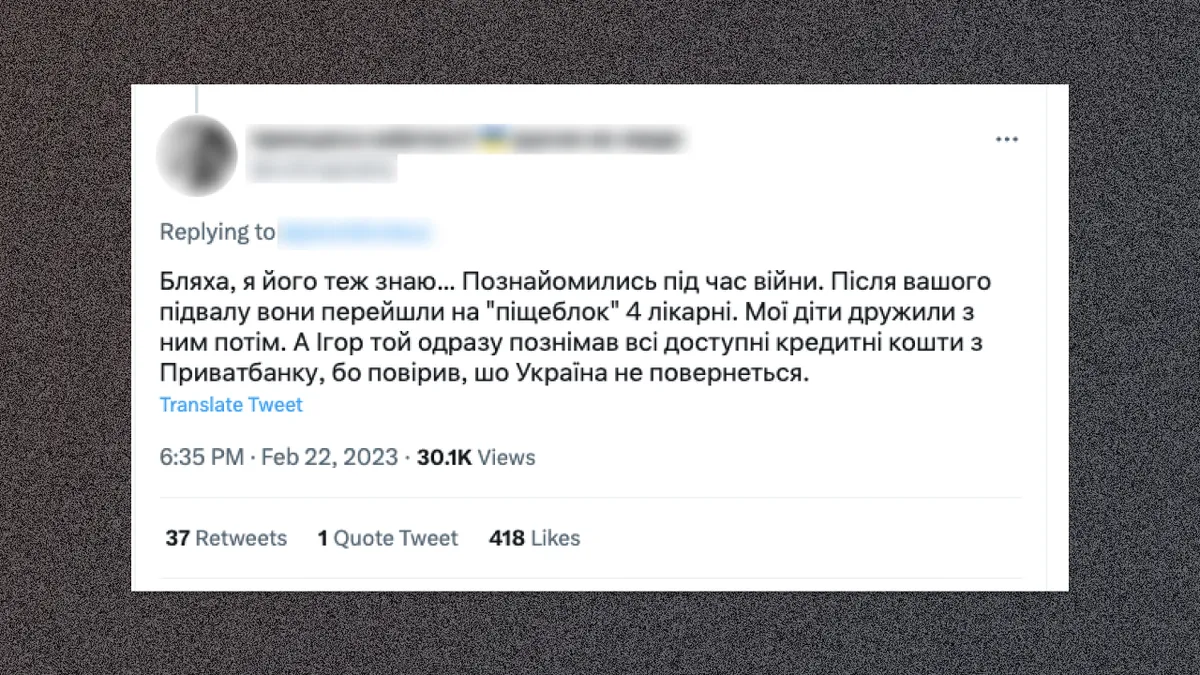 A man shared on Twitter that he recognized Kostya from Mariupol. He received a reply from a girl who also met the Vashchishin family during the war: "After [being in] your basement, they moved to the catering department of the 4th Hospital. My children became friends with him afterwards. And Igor immediately withdrew all available credit funds from Privatbank, because he believed that Ukraine would not come back [to Mariupol]. And after active shelling, I only talked with their family... They didn't seem to me like vatniks (a pejorative used in Russia and other post-Soviet states for steadfast jingoistic followers of Russian propaganda — Editor's note), like the other neighbors or acquaintances.
Who else was on stage at Luzhniki
At least three children who were brought on stage at Luzhniki are taken from show to show with "Uncle Yura," along with their mothers.
The girl in a pink hat and pink jacket, who hugged Yuri Gagarin at Luzhniki, is six-year-old Sasha, the daughter of 29-year-old Natalia Sitnik from Yalta, which is an urban-type settlement near Mariupol. On October 17, 2022, on Andrey Malakhov's TV show, Gagarin hugs and holds Sasha's hand — she's the one wearing pink tights — then she puts her hand on his knees. In the same broadcast, the mother herself made an appearance, as well as her four other kids. The eldest is 10 years old.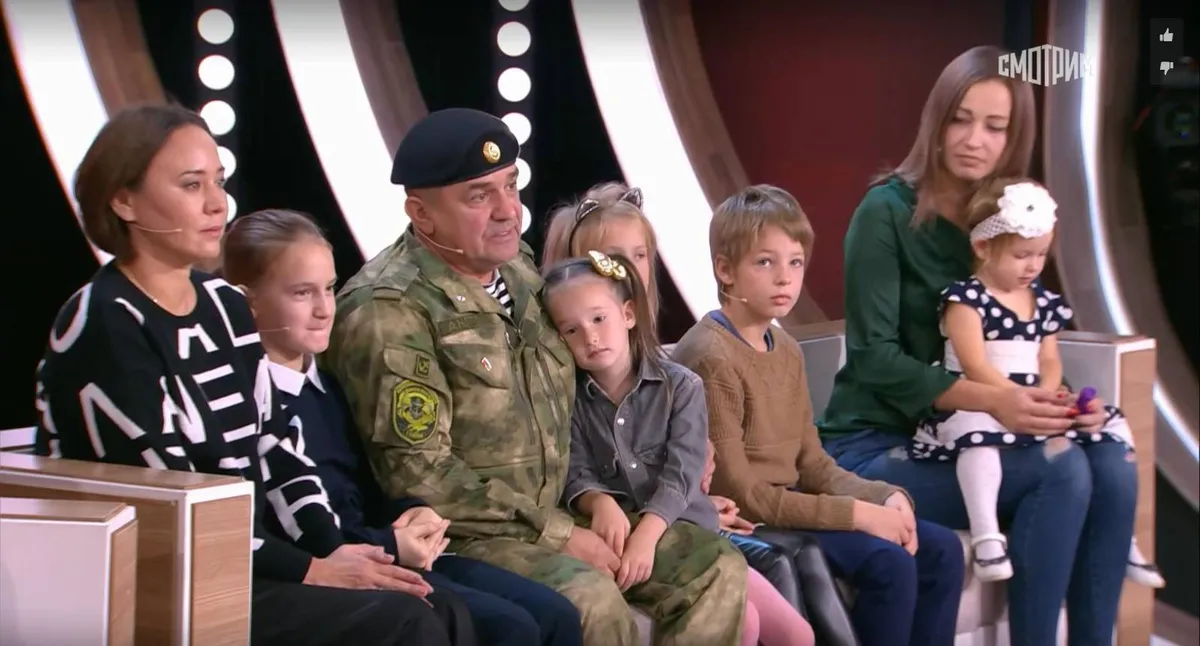 Natalia and her daughter were indeed in occupied Mariupol: photos of the girl can be found in the reportage of the so-called public movement "Donetsk Republic" from the Levoberezhny district of the city, published on April 6, 2022. Malakhov's show says that Natalia spent 40 days with five children in the basement of the Mariupol hospital. Judging by the footage, they're talking about the 4th Hospital, on the left bank.
On air, Sitnik says: "The Azov soldiers came to us, they wanted to take positions [in the hospital] on the second floor ... [The Azov people] simply told us: 'There is no our wounded children here.'" They didn't have any concern for us at all, we were just meat to them. They have no such understanding of humanity."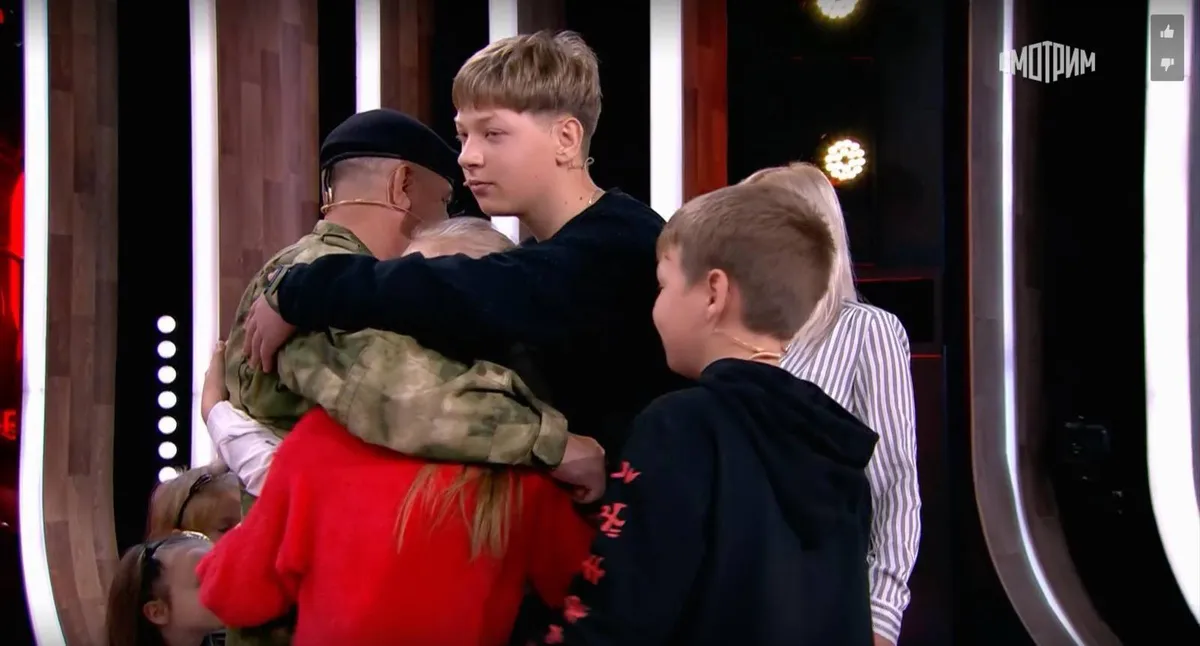 Another family from Mariupol — Natalia Koval's — also starred in Malakhov's show. Two of her children took the stage at Luzhniki: her son wearing a blue jacket, and her daughter, with pigtails in a white hat. In a report shown on Malakhov's show, Koval talks about how she and her children hid from shelling in the basement of their house.