Every year, Russia loses 150-200 objects of cultural heritage (OCH). In the last ten years alone, the country has irrevocably lost at least 2,500 national monuments. Old cities, which have become tourist attractions thanks to their architectural monuments, suffer the most.
Since 2008 more than 70% of the OCH in Vologda, Ivanovo, Tyumen and Kaluga regions have lost their protective status. This is how the government freed itself from the obligation to restore historical buildings and gave the owners the right to tear them down. As a result, city centers are being overgrown with high-rise apartment buildings that are rapidly replacing historical architecture.
"I was born in an almost entirely wooden town. I end up in a different city, although I have never left this place. This city is called Vologda", says local historian Alexander Sazonov. According to his calculations, as of today there are only 80 wooden houses left in Vologda, half of them in disrepair. "Recently I tried to publish a calendar about wooden Vologda with the publisher "Antiquities of the North" — they did not find even 25 pictures", — complains Sazonov. — There are 13 houses in decent shape for the whole city. That is the scale of destruction."
In 2011, three thousand Vologda residents signed an open letter in defense of wooden architecture. This was the starting point for the creation of the Vologda town protection movement. "Suddenly it became clear how to act when you care. I care those buildings are being destroyed. I care that there might be a fire. It became clear that there were some mechanisms to attract attention, to make this story visible," says Olga Smirnova, activist of the "True Vologda" movement.
Reportage "Erasers of history. How officials and developers are destroying Russian cities" by IStories. Journalist: Daria Talanova. Voice and script: Pyotr Ruzavin. Cameramen: Evgeny Komissarov, Alex Neste, Georgy Malets. Editing: Evgeny Paramzin
Like Alexander Sazonov, Olga has watched the disappearance of her hometown since childhood. She was born in the historic center of Vologda, on Chernyshevsky Street, and saw her house first dispersed, then had its windows boarded up and then demolished. In its place a mock-up was erected. Vologda is not the only Russian city, which is rapidly losing its historical image. Neither villages, nor cities with a population of millions, nor the capital are immune from demolition of valuable buildings.
In Moscow, the main demolition campaigns were carried out in the late Soviet era: between the 1970s and the end of the 1990s, the capital lost about three thousand historical buildings. Whereas now the urban rights movement "Archnadzor" fights at least for individual houses, back then Moscow was demolished in whole neighbourhoods.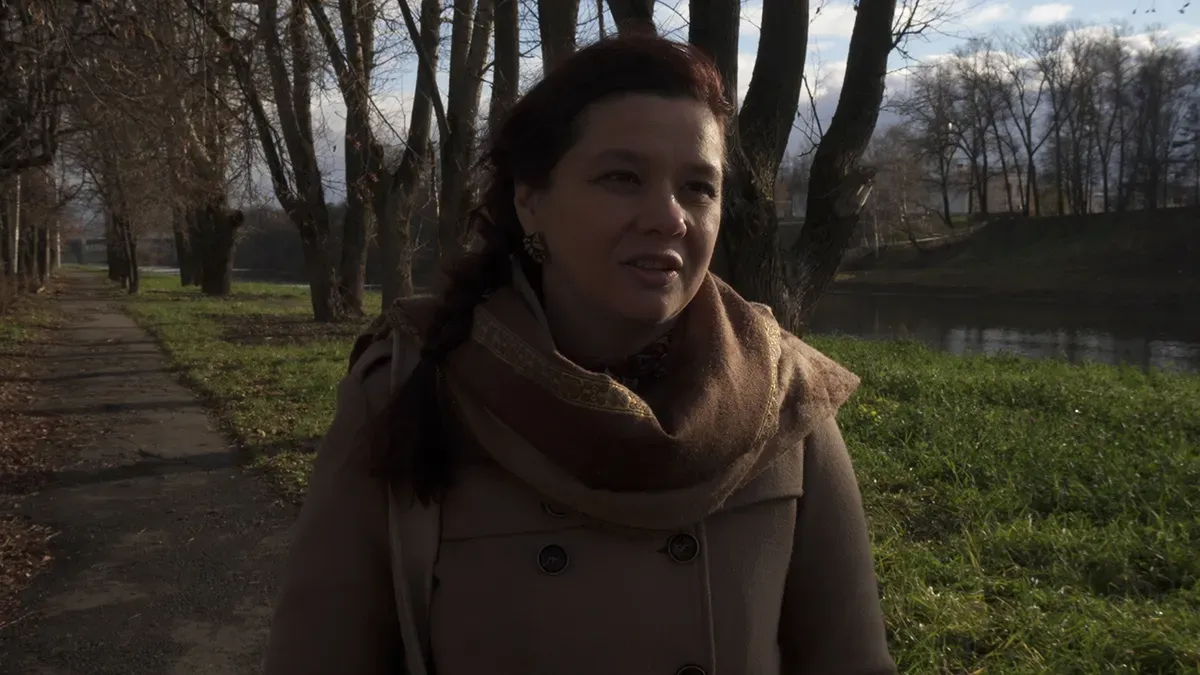 Olga Smirnova
Photo: IStories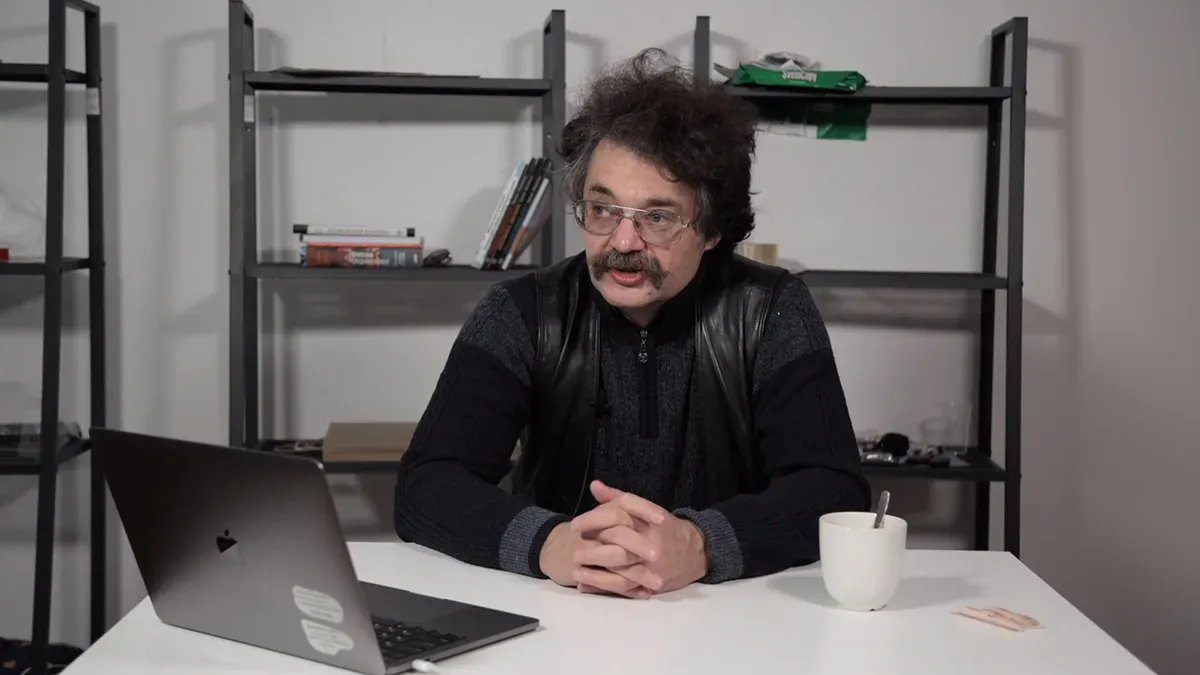 Konstantin Mikhailov
Photo: IStories
Konstantin Mikhailov, the founder of "Archnadzor" and head of the nationwide information platform "Heritage Keepers", has been involved in heritage conservation since the 1980s, and has witnessed the uncontrolled demolition of the capital personally. In his memory, the entire right side of Sergiy Radonezhsky Street was demolished, in place of which is now a typical residential development.
"Back then, it was thought that individual monuments should be preserved, and there were no serious advocacy for demolished neighbourhoods," recalls Konstantin. "For example, between Prospekt Mira and today's Olimpiysky Prospekt, there was a protected realm of old Moscow. And many mansions from those quarters appeared in serious studies of the history of Russian architecture as examples of the purest Russian Empire, Classicism and other styles. Today there are only a few houses left out of the hundreds that stood there."
Unlike the capital, some Russian cities have managed to maintain a coherent architectural picture — primarily due to less interest from developers. For example, developers reached Rostov-on-Don only by the end of the 2000s. In one year in 2009, the city authorities removed 200 objects of cultural heritage from the protection in the city center, and a year later began the mass demolition of the historic buildings.
Support those who tell important stories about real Russia
Your donation will help us write reports about different regions of our country
Rostov residents are convinced that the buildings were stripped of their status under pressure from developers. "Without explanation, without expertise, just by the stroke of a pen. One day, people just found out that these buildings were no longer included in the list of eligible buildings," recalls Lyubov Navershinskaya, an activist of the local urban conservation movement "MoiFasad". "At the time, the regional Nationwide Society for the Protection of Monuments of History and Culture (VOOPIK – Ed. Note) fought for the truth, but to no avail. After these events, "MoiFasad" became more active as a movement: it was impossible to oppose the actions of the authorities with isolated efforts".
There is some kind of set-up — not to breed the number of heritage sites
The protected status granted to cultural heritage objects protects them from demolition and substandard restoration. If a building is damaged or lost, only a state-recognised cultural heritage site can claim restoration and hold the perpetrators to account.
Before taking a monument under protection, an expert certified by the Ministry of Culture must determine whether the building has the attributes of OKN (Object of Cultural Heritage). If the expert finds that it does, the historical building is considered a cultural heritage object and can be included in the register. Adding an identified monument to the register is a separate step, for which the expert is also responsible.
But in reality, once a heritage building has been identified, often nothing happens. Over the past five years, the number of protected buildings on the register has hardly changed, but the number of 'claimant' buildings is growing every year.
"I can't assume anything other than that some unspoken command has been given to stop accepting new buildings," comments Konstantin Mikhailov, head of "Archnadzor" and "Heritage Keepers". "For years, if not decades, many objects with the status of identified buildings have remained in that status. And new ones that are eventually identified, including thanks to our work, unfortunately remain outside the protection registers. I think that there is some kind of an order not to breed the number of heritage sites."
In some regions, the process of identifying new heritage sites is also frozen. According to Antonina Eliseeva, an urban conservationist from the "Living Petersburg" movement, out of the dozens of applications for designation considered by a separate department there — the Committee for State Control, Use and Protection of Monuments of History and Culture (KGIOP) — officials satisfy only a few.
In March 2021, despite protests from residents and the opinion of architectural expert Margarita Stieglitz, the KGIOP repeated its refusal to include the former Institute of Paper Industry, a Soviet Neoclassical style building constructed in 1955 and designed by architect Boris Zhuravlev, in the list of identified monuments. The reason for the refusal, according to the town defenders, was the permit issued to the major construction holding "FSK" to demolish the building and build an 11-storey residential building in its place.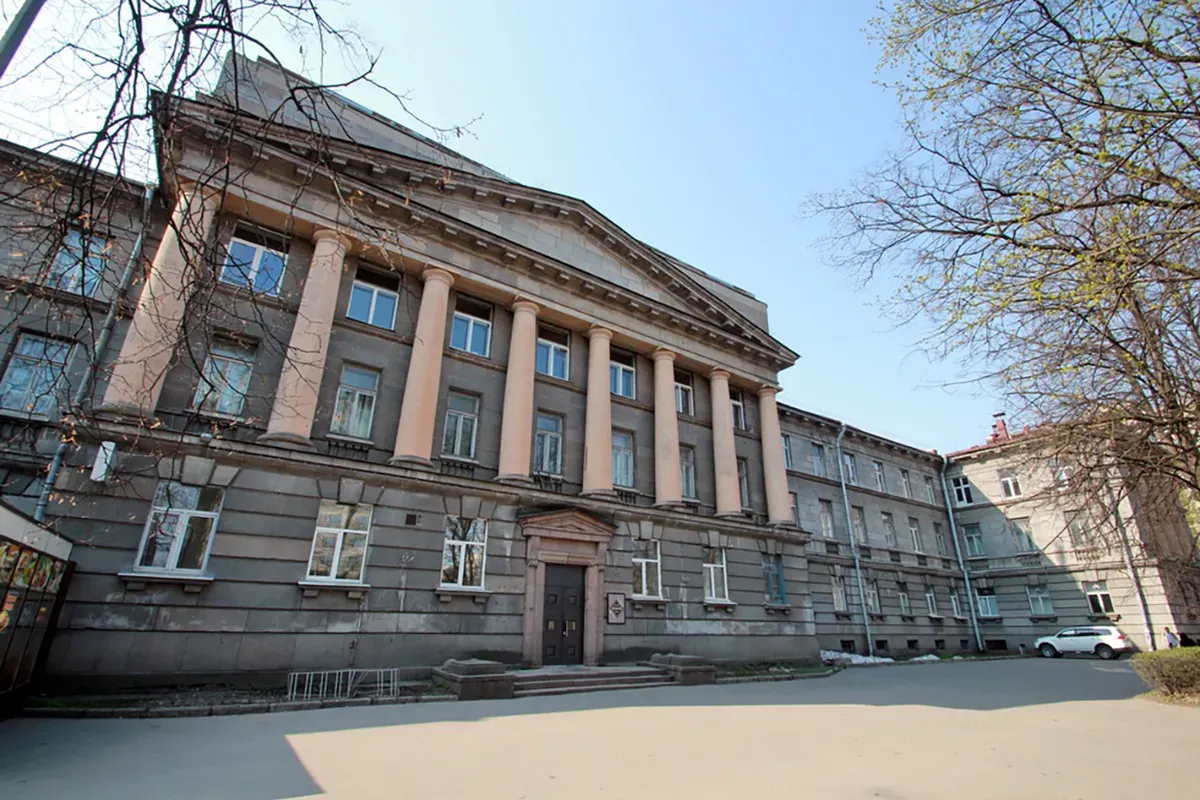 Institute of the paper industry
Photo: Dmitry Ratnikov / Kanoner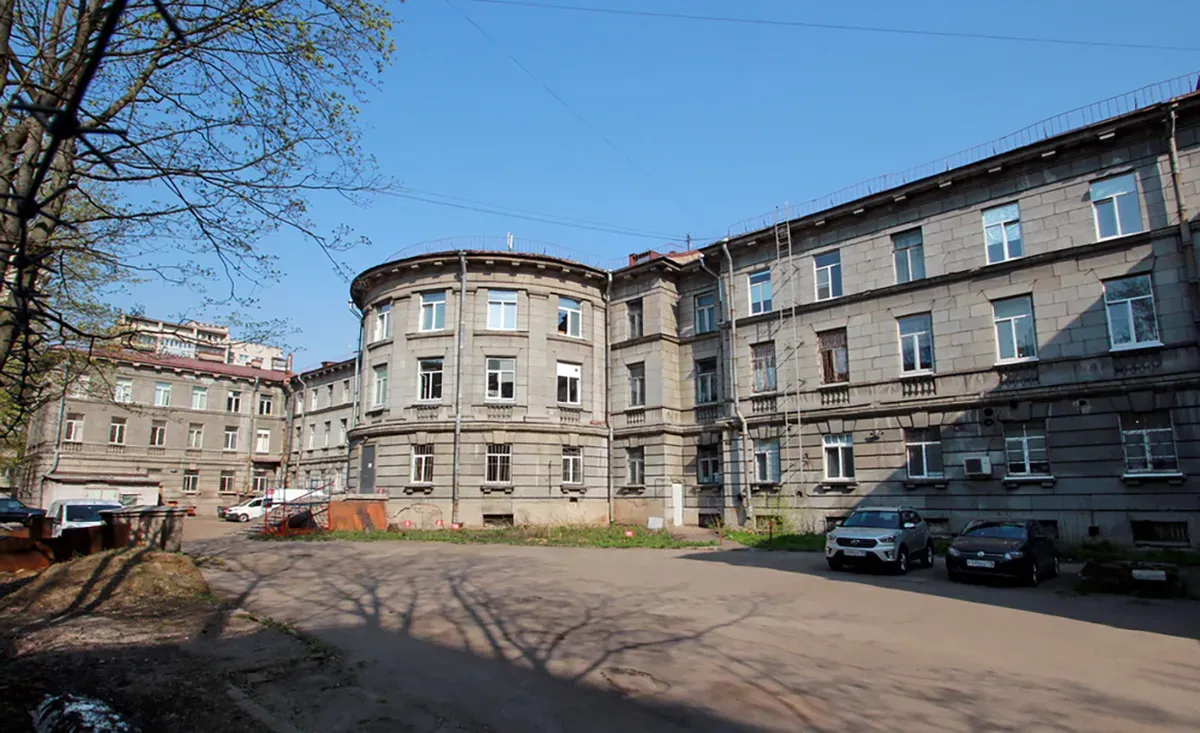 Institute of the paper industry
Photo: Dmitry Ratnikov / Kanoner
"The KGIOP attempts to present the residents' applications as if some granny liked a nice house and scribbled a paper," says town defender Antonina Eliseeva. "That's not true. The applications are submitted by special experts, among others. They are real, elaborate studies with archived data. But even such applications are rejected in the vast majority of cases. Officials from the KGIOP allow themselves to ignore the opinion of certified experts of the Ministry of Culture, the most authoritative specialists in the country in the field of cultural heritage. The officials spit on even them — what can we say about ordinary citizens?"
25,000 rubles for the demolition of a monument
In Vologda, where, according to local historian Alexander Sazonov, only 3% of all buildings are historical buildings, heritage houses continue to burn. In October 2021, the house of the icon painter Vasily Shakhov, one of the city's most valuable monuments of federal importance, built in the 19th century, was destroyed in a fire. The building had already burned three times before, but as long as one of the owners, local photographer Leonid Starikov, lived there, the Shakhov's house held on.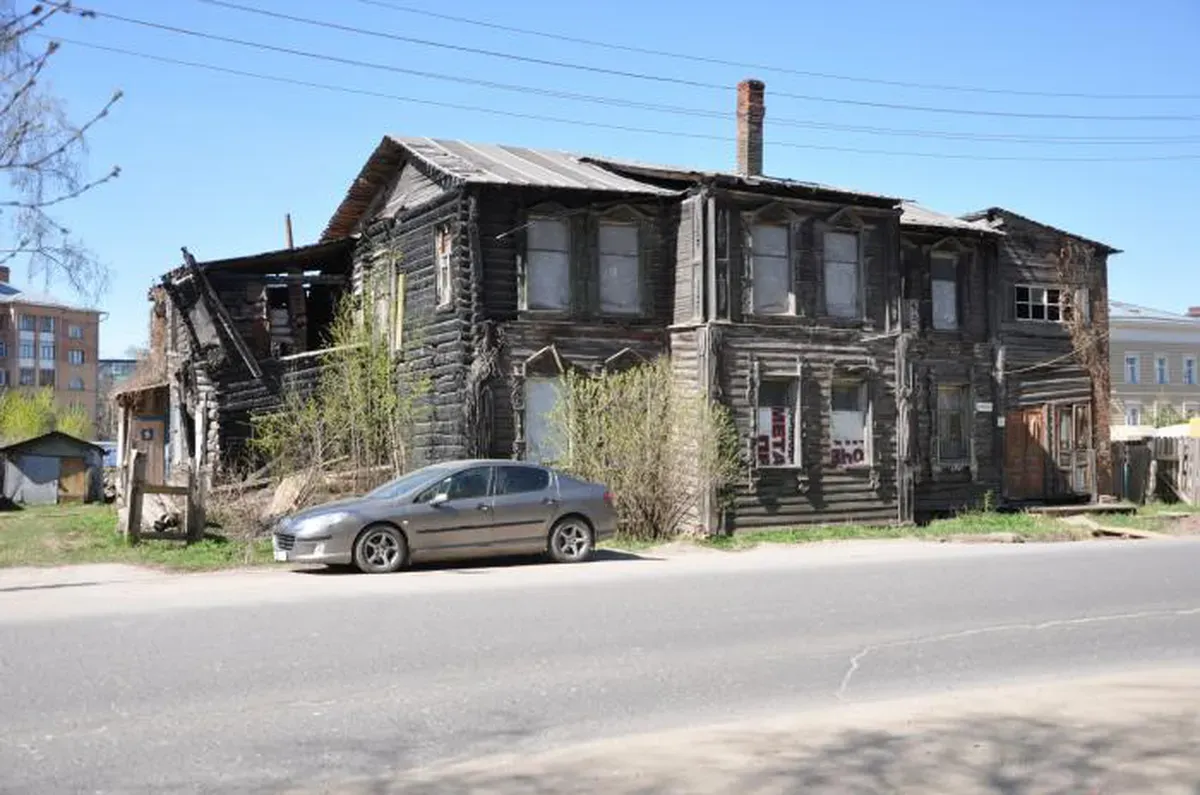 Shakhov's house in 2015
Photo: zmike / wikimapia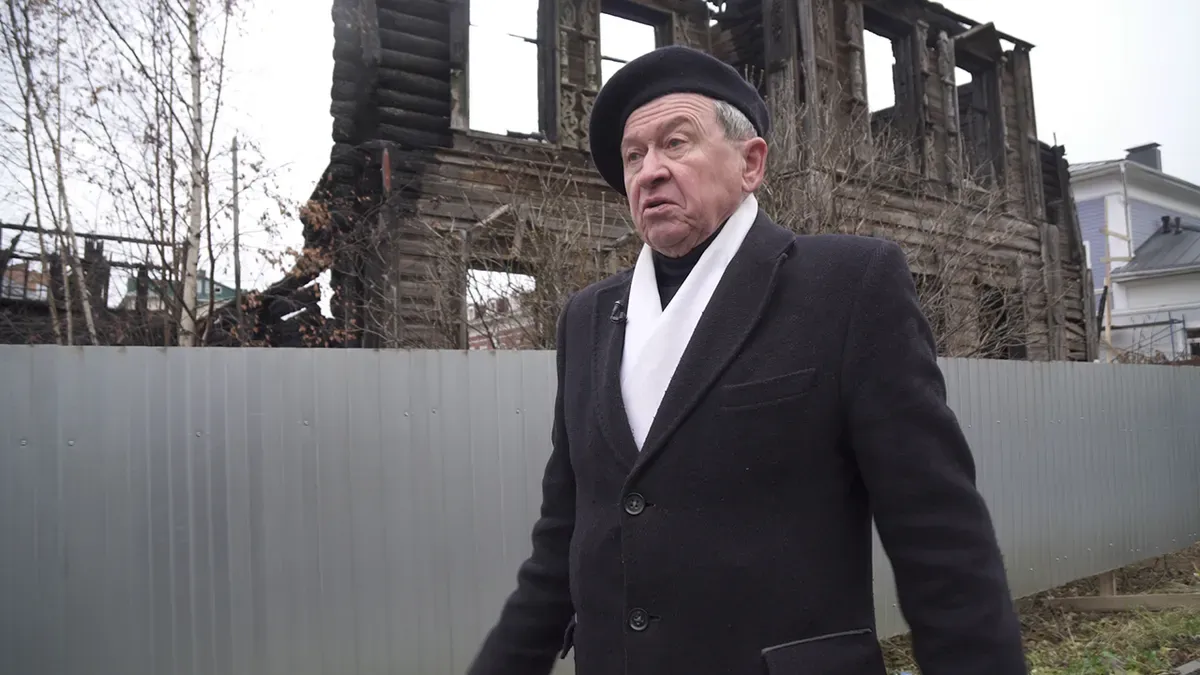 Alexander Sazonov near Shakhov's house
Photo: "IStories"
"Leonid showed me a document from which I learned that the Ministry of Culture at one time allocated money for the restoration of this house on the condition that the regional or local authorities would give money for the project. They didn't," says Alexander Sazonov. "We raised over 200,000 roubles on the crowdfunding platform for a partial restoration. But the photographer died — and the third fire turned out to be a success."
Now there is a charred facade on the site of the Shakhov house, enclosed by a trapezoidal fence. It is not known what will be built on the site.
The protected status accorded to OCH is enshrined in the Constitution. Destroying or damaging a listed heritage property is a real offence which can result in up to two years imprisonment (under Article 243 of the Criminal Code) or a fine of up to five million rubles (under Articles 7.14.1 and 7.14.2 of the Administrative Offences Code).
In practice, even if a fire or demolition is investigated, the maximum the defendants face is a token fine. Last year, according to the Judicial Department, its average amount was 58 thousand rubles.
Only 25 people have been prosecuted since 2016, 11 of whom have been sentenced to fines, 10 to compulsory work, three have received suspended sentences and one has received a real sentence.
In Novaya Ladoga in the Leningrad region, six objects of cultural heritage burned down between 2017 and 2019. An appeal by local residents and city defenders prompted the authorities to open a criminal case, which was taken under personal control by Alexander Bastrykin, chairman of the Investigative Committee. At the same time, in Novaya Ladoga, another cultural property, the wooden mid-19th century house of merchant Raisa Agapova, was demolished under the guise of "renovation". Activists also sought to prosecute the perpetrators, but the head of the local administration was fined 25,000 roubles and the contractor was fined 50,000 roubles.
"There is an article in the Constitution that says that everyone is obliged to take care of cultural heritage and protect it. But when we are confronted with the real facts of its destruction, in 99% of cases we see total impunity," says Konstantin Mikhailov, head of "Arkhnadzor".
From the point of view of criminal law, the demolition of national monuments is not particularly dangerous. In terms of severity, the destruction of a national monument (Article 243 of the Criminal Code) is below average. "The police refuse to initiate such cases. Either they do, and some kind of investigative actions, pre-investigation checks are initiated, which do not result in anything. Either they fail to identify the perpetrators, or fail to establish the damage, or something else," Konstantin Mikhailov describes the practice of applying Article 243.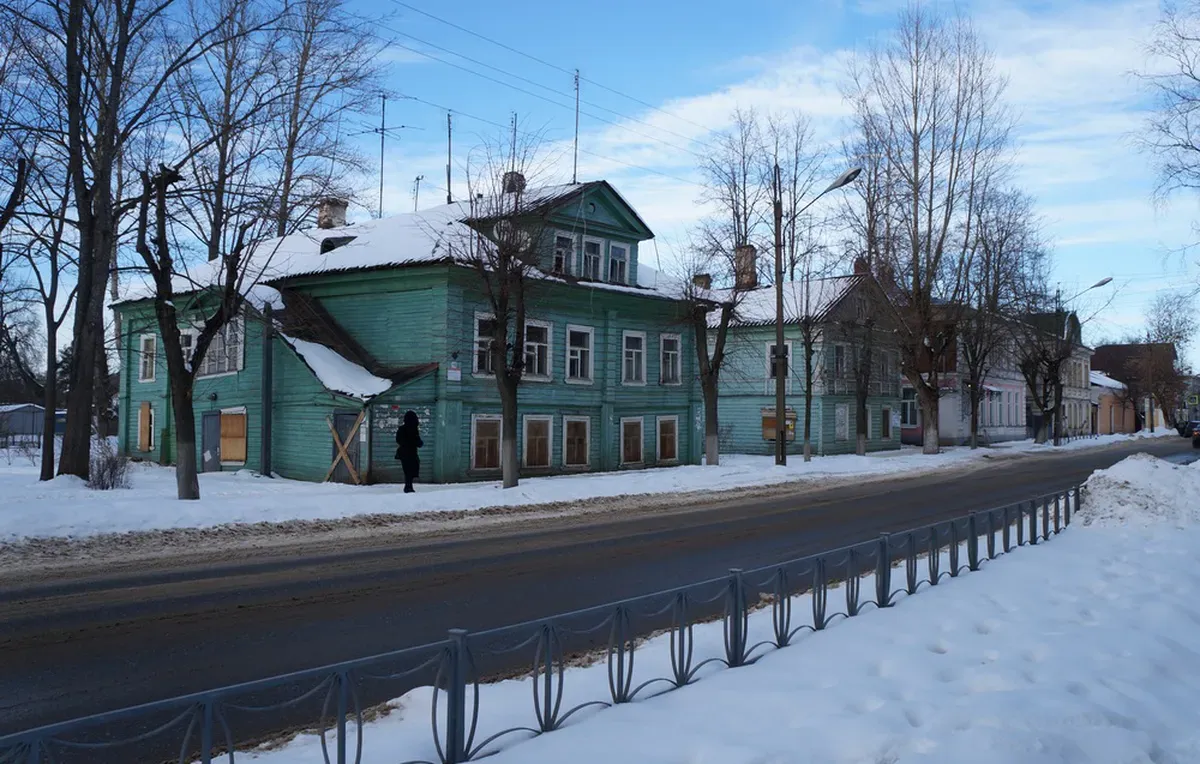 Novaya Ladoga (Leningrad region), Agapova's house. Photo: 26 February 2017.
Photo: "Living City"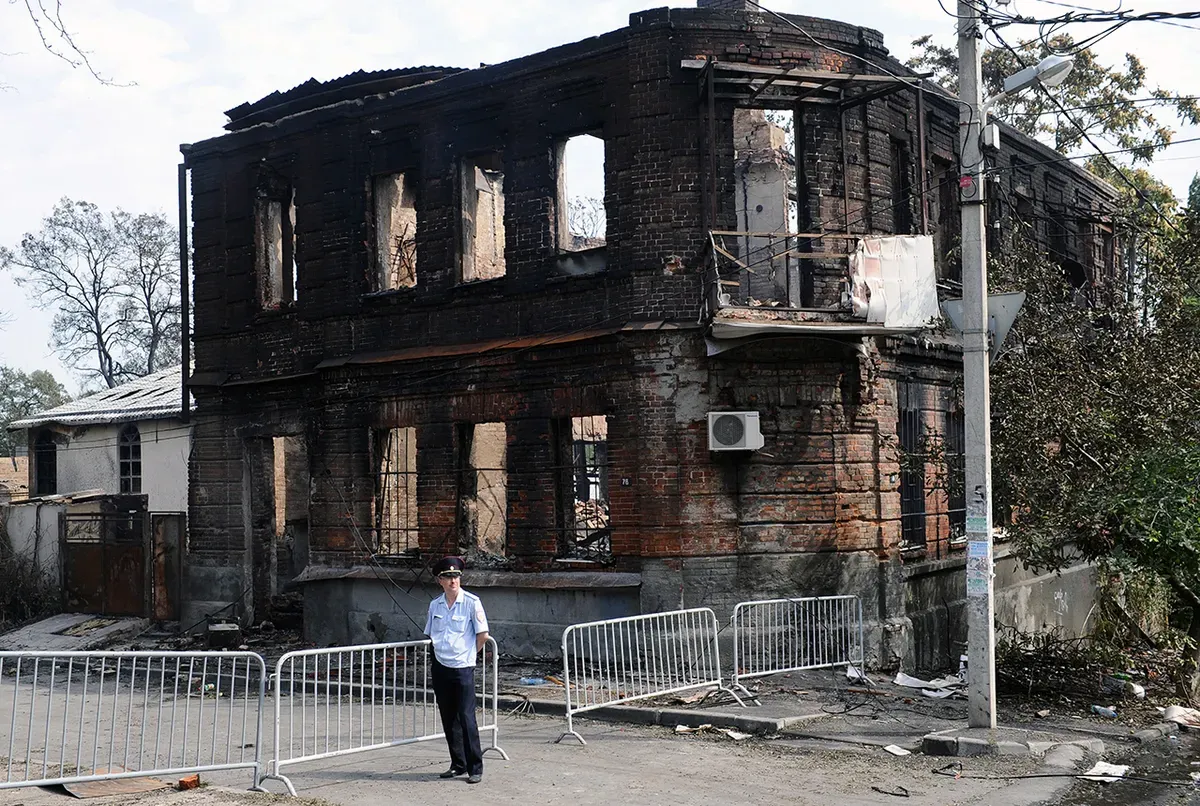 Rostov-on-Don. A police cordon at the scene of a fire in the city centre in which at least 120 houses burned down. Photo: 22 August 2017.
Photo: Maxim Romanov / TASS
In 2017, an entire block of 120 houses burned down in the historic centre of Rostov-on-Don, near Teatralnaya Square. Town conservationist Lyubov Navershinskaya says that the entire block was built in the 19th century: some of the adobe houses were half destroyed at the time of the fire, while others were in good condition. "Everyone was talking and writing about it being arson, including the federal publications. But the police and the prosecutor's office are investigating the case slowly and seemingly not too willingly, and we can't prove anything," says Navershinskaya.
The local governor and the mayor promised that the area on the site of the historical quarter would never be developed into high-rise buildings. Despite these promises, the project by the developer Yelena Naumova (available to the editors), which has been approved by the administration for two years, envisages, in particular, building up the neighbourhood with high-rise buildings of 17 storeys each.
Protected status should not only protect monuments of architecture from destruction, but also from illegal additions, cladding of facades with substandard materials, replacement of wooden frames with plastic ones. As a rule, violators are punished with petty fines, which the owners are willing to pay without having eliminated the violations.
"In June, the Heritage House of Ess appeared to have an extension. We discovered it and wrote a post on Instagram. The Committee for the Protection of the Monument read it, and allegedly went and wrote an order to remove it. But five months have passed and it's still there. Maybe the owner thought that it was easier for him to pay a fine of five thousand roubles than to demolish the entire extension, get the projects approved, and so on," says Lubov Nyvershinskaya.
"Sometimes it feels like it would have been better if they had not touched it at all"
VOOPIK estimates that between 50% and 70% of the historical and cultural monuments under state protection are in an unsatisfactory condition, most of which need to be urgently rescued from demolition.
However, only 8.5% of sites are currently undergoing conservation work. In some regions with pre-revolutionary buildings, the share of renovated heritage has fallen to 1% in the last three years.
In Ryazan, a city with a preserved wooden centre, dozens of houses have been in a state of disrepair for many years, says Alexander Dudarev, an activist of the urban rights movement "Ryazan we have lost". As a rule, residents of dilapidated housing are resettled, after which the houses stand in disrepair, deteriorate and often burn down.
In 2017, residents defended an emergency building of the former Dashkov almshouse from demolition (an 18th-century federal monument of which there are just over a dozen left in Ryazan). "Its status has not changed since then, but no one is renovating the building, and it is actually dying a few steps away from the Ryazan Kremlin. In the same way, having lost their tenants, dozens of houses are being destroyed, although museums, cafes and any other public spaces could be opened in them, following the example of other cities, increasing the city's tourist attractiveness," says Alexander Dudarev.
In Rostov-on-Don, more than 200 dilapidated houses in the historic center are waiting for their turn. "They slowly deteriorate until they start falling on people's heads," says urban conservationist Lyubov Navershinskaya.
More than half of the heritage sites are in need of restoration, but the regions do not have time to fully spend the budget on preservation works: the leaders in terms of funding spend up to 80 percent of the allocated funds annually. Unspent money, which could have been used to restore buildings, goes back into the federal budget.
As a result, monuments wait years for restoration, and even if it comes to them, the quality of work is often rated as unsatisfactory by urban conservationists. "Facades covered in siding and white plastic windows," is how activist Lyubov Navershinskaya describes the historic centre of her native Rostov-on-Don. "Today, the capital repair fund works to unclear standards. So they can afford to simply daub the old brick of XIX century with "bark beater" (decorative plaster — Ed. Note) or to cover the historic building with corrugated board. It's a legalised way to disfigure buildings."
In June, Rostov activists came up with an initiative to introduce landscaping regulations. The urban rights activists from the MoiFasad movement collected 200 signatures from residents and wrote an open letter to the chairman of the City Duma. The authorities refused to consider the citizens' appeal.
"Sometimes it seems that it would have been better if they had not touched it at all. It would have been a noble ruin. Or at least mothballed, so that it does not fall apart further. Maybe it would have waited for better generations of restorers," says Konstantin Mikhailov, head of Archnadzor. In his opinion, the main reason for the poor quality of work is the criteria for selecting a contractor during tenders. According to the rules of the tender, the contractor is obliged to focus on the prices offered by the bidders. The bidders, in their turn, underestimate the cost of the work in order to win the contract. As a result, they have to save on construction materials, labour and their qualifications in order not to break even.
There have been cases where monuments of federal importance have fallen into the hands of unknown restoration firms. This happened, for example, with the white-stone Pskov Kremlin, an 11th century architectural ensemble and the main landmark of the region. The contract for its design was won by a company from Kurgan, which, according to Konstantin Mikhailov, had a track record of only two 19th century churches restored.
In Izborsk in the Pskov region, the snow-white 16th century Church of St Nicholas was restored in 2012. A year later, tourists and experts noticed that it was beginning to turn green. The reason for the appearance of "slime-green stains", as stated in the prosecutor's office response to a request by Pskov regional assembly deputy Lev Shlosberg, was "biological damage". Konstantin Mikhailov believes that the most probable cause is poor quality construction water, "which was drawn from a neighbouring puddle during the works".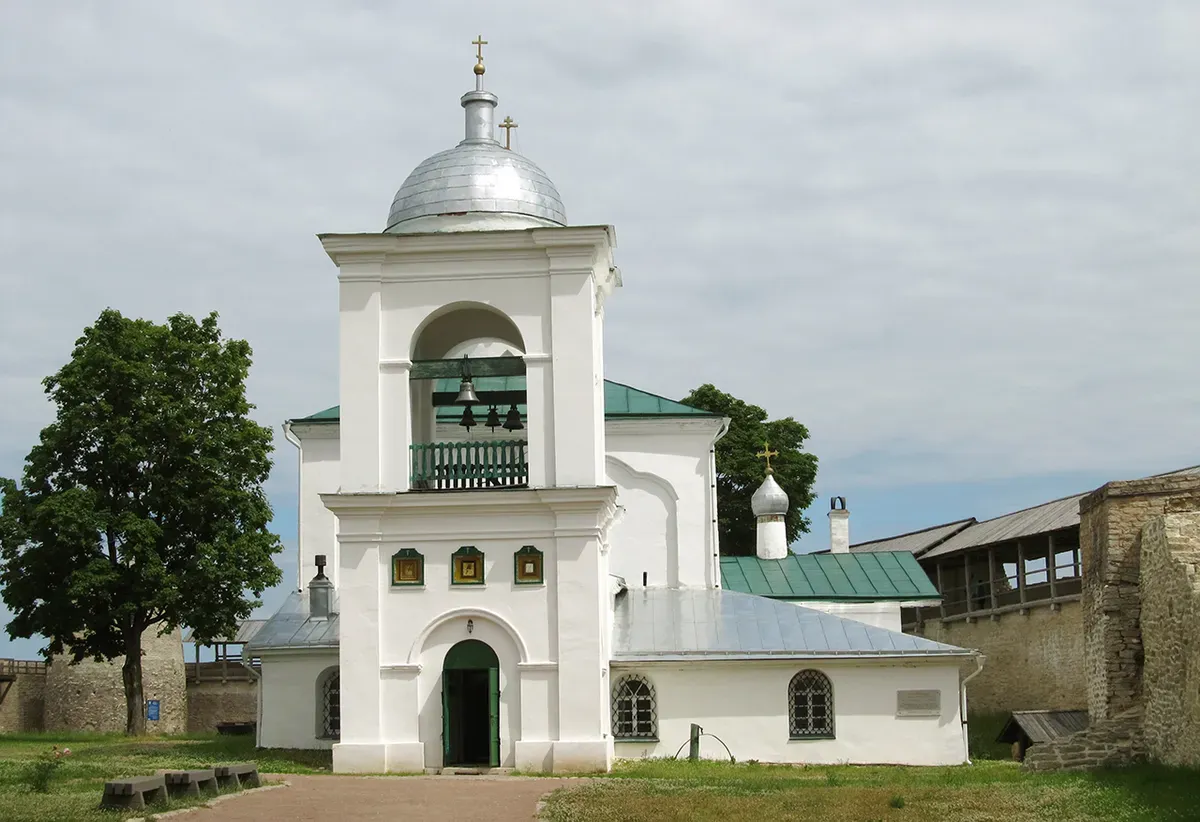 "We need to come up with some other system of restoration tenders, so that the question of price is far from being paramount," Mikhailov believes. "The first criterion should be the restoration firm's track record, the portfolio of objects it can present, the recruitment of restorers who have proven themselves in this business. So that when handing over priceless monuments into someone's hands, the country can be sure that these hands will at least do no harm".
Shield from developers
In addition to individual objects of cultural heritage, city centers are filled with background historical buildings, without which there cannot be a coherent image of the city. "Right now, we are sitting in the studio [in Petrovsky Lane]," says Konstantin Mikhailov. "If you look out the window, there is a beautiful monument of classical, even pre-classical Moscow, where the Russian Military Historical Society is now located. The monument has been preserved and very well restored, but around it, everywhere you look, there are grimy new buildings from the Soviet, post-Soviet period. That is, it has lost its historical context. It is perceived as absolutely torn out of history and looks like an exhibit that can be moved around if desired."
As of today, about 150 Russian towns can preserve the architectural environment of the historical center, which have been granted the status of historical settlements. In their centers, it is not allowed to build tall houses or to demolish or rebuild historic buildings. It does not matter whether these buildings are monuments or less valuable architectural elements of the urban environment.
The list of historical settlements in 1990 included more than 500 localities. In 2010, the list was reduced to 41 settlements of federal significance. After the reduction, many towns found themselves defenseless against developers, so most of them are trying to regain their protection status and adopt their protection regimes of regional significance. To date, 45 settlements have historical settlement status of federal significance and approximately 100 have regional status.
In 2010, Samara was removed from the list of historic cities, among others. Three years ago, it was decided to re-grant it protection privileges, but the city has still not regained its former status.
"At the end of 2019, we were entitled to this status. But as of today, there are no approved valuable city-forming objects, united protection zones, and city regulations. So there is nothing stopping the developer," explains Nina Kazachkova, head of VOOPIK in Samara.
The funding for demolishing dilapidated housing, which Samara received in 2021, also poses a serious threat to the historic center. Many wooden houses are on the list of dilapidated buildings. Without approved historic preservation status, they will inevitably face resettlement and demolition.
Urban conservationists have to prove the value of every historic building that the authorities intend to strip from the city. So far, the commission to save the historic center has been able to defend 57 of the 126 houses, but more than 10 have already been razed to the ground.
There were 14 historical settlements in Tver Oblast until 2010. In 2010, the authorities left this status only to Torzhok, Toropets and Ostashkov. Tver itself was stripped of the protection status. Yet it is the regional capital that, in the opinion of Tver urban conservationist Pavel Ivanov, most needs the "protective umbrella".
"In Ostashkov and Toropets, there is simply no new major construction in historic centers. In Tver, there is. It needs the status of a historical settlement," says Ivanov. "But the standard improvement is carried out everywhere according to the program of the Ministry of Construction. It is the same all over the country and it is awful. No attention is paid to history anywhere. Neither on the territory of the historical settlements, nor on other territories. The same pavements. the same lanterns and square benches in the style of "overturned box". There is no way to counteract this."
"We wanted to shout, 'Look how beautiful this is'"
As a counterbalance to mass demolitions, concerned residents of Russian cities have been trying to rebuild historic houses with their own hands since 2015. The idea, which turned into an organized volunteer movement, was born in Samara among a group of journalists. Today, "Tom Sawyer Fest" is an example of Russia's most massive urban conservation activism, taking place in 66 cities.
The festival, as its founder Andrei Kochetkov says, emerged "out of desperation": "As journalists, we wrote a lot about it, went to some round tables and conferences. Everyone was talking a lot, but little was really changing. In 2015, we wanted to try to do something on our own together with ordinary citizens. This was our manifesto. We wanted to shout, 'Look how beautiful this is'. Because a lot of people who walk these streets have not been to Sweden or Finland. They may not even have been to Suzdal and can't imagine how beautiful the same wooden architecture can be if you take care of it."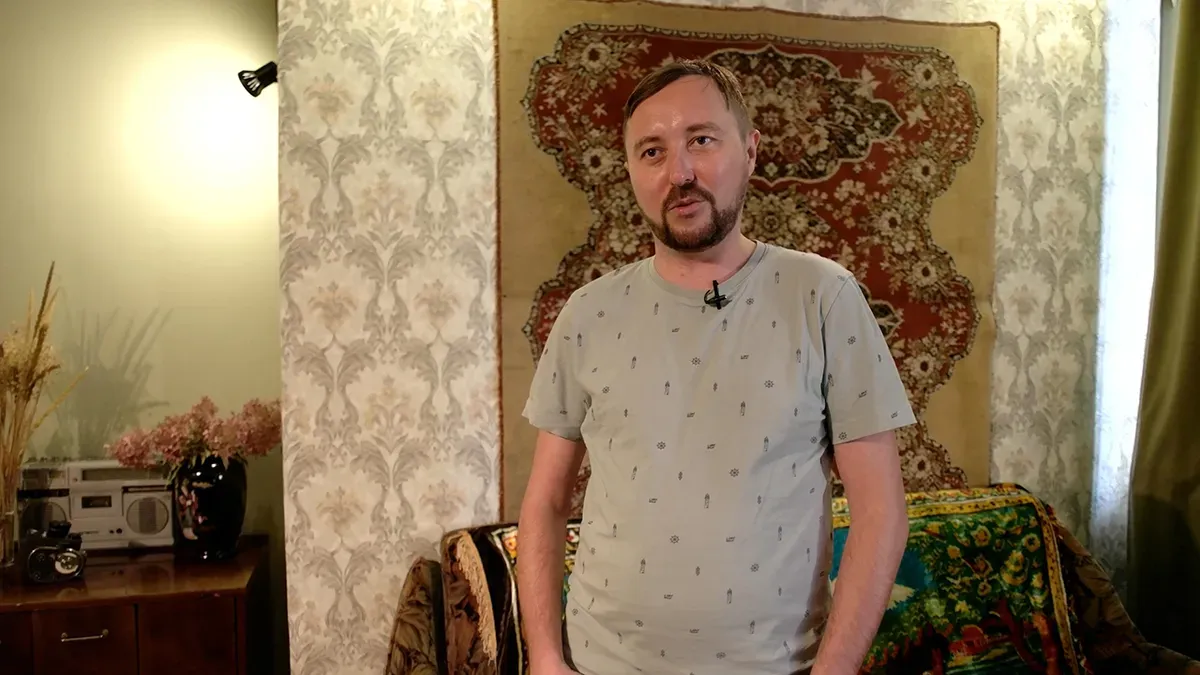 Andrei Kochetkov
Photo: IStories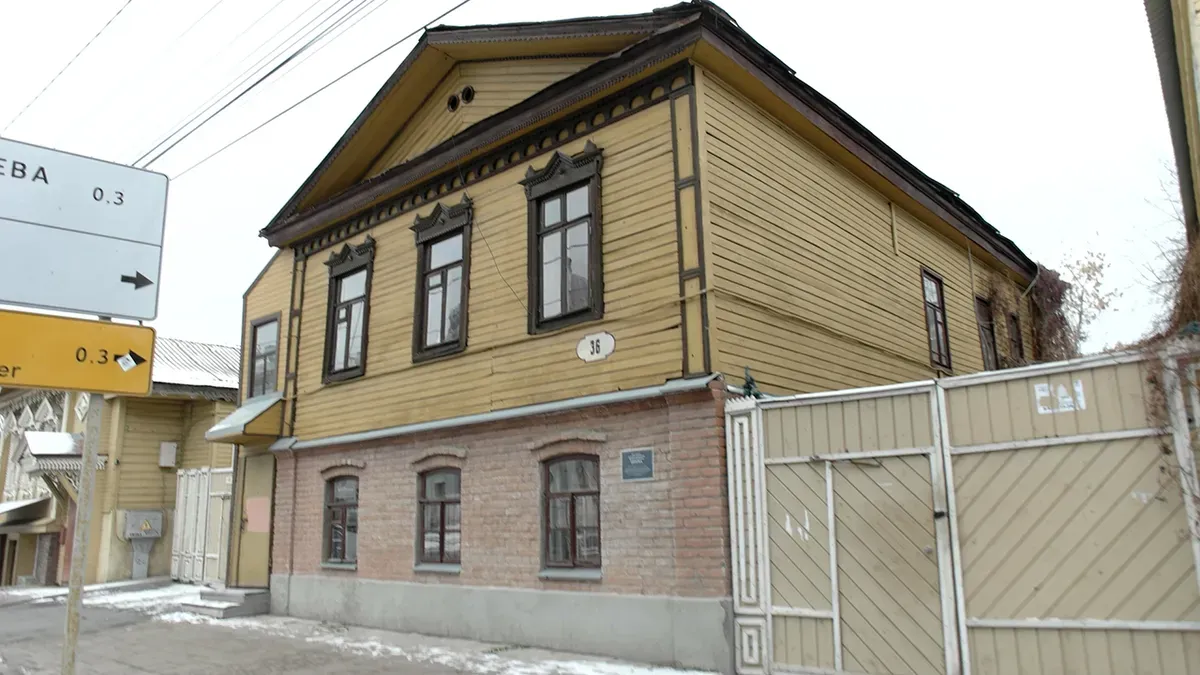 House restored by "Tom Sawyer Fest" volunteers
Photo: IStories
In the first season of the festival, 50 volunteers came to paint houses. From the following year, other cities began to join Samara. "I came to Kazan for the nationwide town protection convention. They said, 'Oh, cool. We want to do that too,'" recalls Kochetkov. "Another city, Buzuluk, read about us in Russian Reporter and wrote about us too. Then we won a presidential grant in 2017, and then there was a flurry of people writing to me on VKontakte".
The initiative grew quickly, with eight cities joining the festival in the second year and 16 in the third. Vologda became part of the festival in 2018, when two historic houses burned down in the city over the winter. According to Vologda coordinators Katya Khobotova and Natasha Drobysheva, people of different ages and professions came to paint houses: restorers, students, lawyers, guests from other regions. Gradually, a community of people who are interested in Vologda's history and have a desire to preserve it formed in the city.
"Now there are already other big federal programmes and different programmes at the city level — because of the very loyal audience prepared," says Natasha Drobysheva. "If they start painting some house, people who came to us at "Tom Sawyer Fest" go and help. Simply because they see that they can help somewhere else".
Andrei Kochetkov is sure that the initiative to restore the historic environment on a voluntary basis would have arisen sooner or later without his team: "There is a demand in society and it is growing. Unfortunately, it has not yet reached the point where it becomes an indisputable value for everyone. If that were to happen, the authorities would be forced to make exceptionally positive decisions about heritage preservation."
Editors: Alesya Marokhovskaya, Alexandra Zerkaleva